This document —published in February, May, August, and November each year— summarizes the opinions gathered by the MPD's Monetary Policy Strategy and Communication Department from interviews and surveys to business management throughout the country.
Please note that the views contained in the BPR do not necessarily coincide with the assessment of the Central Bank of Chile's Board regarding the economic environment.
Informe de Percepciones de Negocios noviembre 2023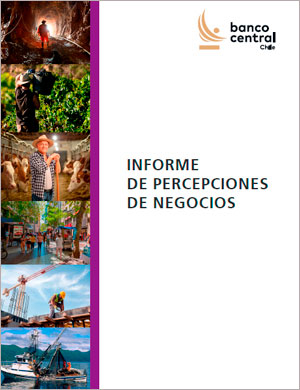 RESUMEN
Las empresas perciben que la economía presenta un bajo dinamismo de la actividad y la demanda.
Sobre el desempeño de sus negocios, la mayoría de los participantes señala que ha seguido empeorando durante el último trimestre. Ello lo atribuyen a un incremento algo más marcado de sus costos en lo reciente, relacionado en parte con el aumento del tipo de cambio y del precio de los combustibles. Al mismo tiempo, indican que solo pueden traspasarlo parcialmente a los precios finales. Esto, agregan, sucede en el marco de una demanda debilitada, lo que conlleva una contracción mayor de los márgenes de ganancia.
Existe heterogeneidad entre los sectores económicos tanto en la percepción del alza reciente de los costos como en la posibilidad de su traspaso a los precios. De todos modos, dicha capacidad de traspaso se percibe algo menor a lo habitual, debido principalmente a la debilidad de la demanda.
El mercado laboral continúa holgado, con niveles de dotación algo por debajo de lo declarado en julio. Las empresas señalan una disponibilidad mayor de personas buscando empleo, reflejada en el número de candidatos para sus procesos de contratación.
Las condiciones financieras se consideran estrechas, principalmente por las altas tasas de interés. Los entrevistados señalan que si bien las tasas de corto plazo han ido disminuyendo, ello no siempre se refleja en las tasas finales ofrecidas, debido a una política de riesgo más estricta por parte de los bancos.
Las empresas esperan que durante 2024 su desempeño sea similar o levemente inferior al del presente. Esto contrasta con las expectativas del trimestre previo, donde esperaban que su desempeño mejorara en los próximos doce meses. Los entrevistados igualmente muestran mayores dudas de cara a 2024 e identifican más focos de incertidumbre que en Informes pasados.
Entre los factores que inciden en las perspectivas, se espera un incremento más intenso de los costos y un debilitamiento mayor de la demanda. Ello concuerda con expectativas para los precios de venta que aumentan de forma muy leve y perspectivas de márgenes de ganancia que se contraen con mayor intensidad. En línea con el desempeño esperado, las empresas anticipan que sus dotaciones futuras serán similares o algo menores a las actuales.
Cerca de un tercio de las empresas contempla invertir en 2024, proyección que es ligeramente mayor a lo reportado para 2023 en la medición de hace un año. Por su parte, aquellas empresas que no prevén invertir siguen señalando como razón principal la incertidumbre económica, a lo que se ha sumado una progresiva preocupación por el desempeño de la demanda.
En relación con las expectativas de inflación, el porcentaje de empresas que espera que sea menor o similar a lo normal durante los próximos doce meses se reduce, mientras que aumentan aquellas que prevén que la inflación sea levemente superior a lo normal.
Informe de Percepciones de Negocios noviembre 2023
Recuadros y gráficos