Volumen 20: Global Liquidity, Spillovers to Emerging Markets and Policy Responses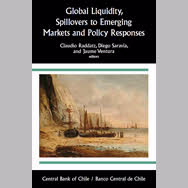 Descripción
The Book Series on "Central Banking, Analysis, and Economic Policies" of the Central Bank of Chile publishes new research on central banking and economics in general, with special emphasis on issues and fields that are relevant to economic policies in developing economies. The volumes are published in Spanish or English. Policy usefulness, high-quality research, and relevance to Chile and other economies are the main criteria for publishing books. Most research in this Series has been conducted in or sponsored by the Central Bank of Chile.

Book manuscripts are submitted to the Series editors for a review process with active participation by outside referees. The Series editors submit manuscripts for final approval to the Editorial Board of the Series and to the Board of the Central Bank of Chile. Publication both in paper and electronic format.

Editors: Claudio Raddatz, Diego Saravia, Jaume Ventura.
Comentarios
This book addresses one of the most prominent macroeconomic issues of our times: How do the extraordinary measures adopted by the central banks of the North in response to their recent financial crises, impact emerging market economies? The book is a tour the force covering a wide array of theoretical and applied themes that shed light on this central question, as well as on other episodes of large capital flows and global imbalances.

Ricardo Caballero, Massachusetts Institute of Technology

The chapters in this book present thought-provoking analyses of various dimensions of what falls under the popular heading of "global liquidity." The contributors are leading scholars and policymakers in their fields. The narratives alternate between examining the determinants and consequences of global liquidity and connect key themes in macroeconomics, international finance, and monetary and exchange rate policymaking in open economies. The collection is a must-read for academics, policymakers and financial market participants seeking to sharpen their grasp of the interconnected world of global finance.

Carmen M. Reinhart, Harvard University

The financial crises of the last twenty-five years, and specially the recent global financial crisis, have illustrated the important role that capital flows and global financial liquidity have played in these episodes. Thus, is not surprising that the study of the causes and management of capital flows and global liquidity have become a central theme in macro financial stability and management both at the country and at the global level. This book provides a good selection of key aspects in relations to the causes and consequences of global liquidity. The book is a timely addition to this literature and should be of much interest to policy makers and financial analysts alike, I strongly recommend it to both types of audience.

Vittorio Corbo, Centro de Estudios Públicos
Volumen 20: Global Liquidity, Spillovers to Emerging Markets and Policy Responses
Recuadros y gráficos