Volumen 19: Macroeconomic and Financial Stability: challenges for Monetary Policy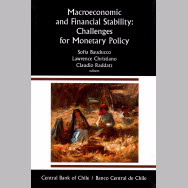 Descripción
On September 2008, Lehman Brothers filed for bankruptcy and the world became aware that the financial crisis that had been unfolding for months was far more serious than expected. Months later, it became clear that the financial crisis of 2008-2009 was the worst economic downturn since the Great Depression of the 1930s. The crisis not only brought the global financial system to the brink of disaster, but also shook the existing consensus regarding the appropriate conduct of monetary policy and macroeconomic stabilization.

This volume provides a comprehensive study on the interaction between economic policy and macroeconomic and financial stability. It collects thirteen contributions by leading experts in the field of macroeconomics discussing the lessons left by the financial crisis for the conduct of monetary policy, the role of monetary policy in the buildup of a financial crisis, the role of monetary and macro-prudential policies in preventing a financial crisis and the policies that can aid the economy in the path to recovery from a financial crisis.

Editores: Sofía Bauducco; Lawrence, Christiano; Claudio Raddatz.
Comentarios
The global financial crisis that began in 2008 not only hugely disrupted the world's economies, but also shattered the consensus about best practices in macroeconomic policymaking. The conference brought together a stellar line-up of experts to debate and discuss the various new policy issues raised by the crisis. This book gives you access to their insightful deliberations.

Anil Kashyap, Chicago Booth

The interaction between policy making and research has never been closer, with policy drawing on research and research being driver by policy experience. This volume epitomizes the link at its best and represents the best of the crop of recent thinking on monetary policy, financial stability, economic growth and the links between them.

Hyun Song Shin, BIS

I urge you to study this volume, which reviews the various policy issues posed by the financial crisis of 2008-2009. The chapters are written by the best in the business.

Martín Eichenbaum, Northwestern
Volumen 19: Macroeconomic and Financial Stability: challenges for Monetary Policy
Recuadros y gráficos